Tuesday, December 16, 2008
Tuesday, August 26, 2008
There is nothing like a good birthday party to get us going on finishing the last touches on our house. Lafe worked like a horse to get it done and I think he did an amazing job! Were So happy its finally finished. Enjoy the pictures!
Posted by

Jenna and Lafe
at 9:49 PM
12 comments:

Friday, August 22, 2008
Posted by

Jenna and Lafe
at 8:28 PM
1 comment:

Posted by

Jenna and Lafe
at 8:15 PM
1 comment:

Well I know I know I have taken for ever to post this sorry everyone. So on Friday July 25TH Daynie turned the big #1! We had both of our families over for a BBQ and a water party. We felt like it was a really great turn out, and Daynie thought she had died and gone to heaven with everyone around. We had a big blow up water slide and a triple slip-n-slide. Daynie was not a fan of the water because it was cold but it was ok all the other kids enjoyed it, and she enjoyed watching. Alaina made her cake and we loved it! It turned out so cute and it tasted great too. It is just so crazy to believe our baby girl is one and growing as we speak! I would swear that just yesterday the doctor handed her to me and it felt like the world stopped turning. I hope that i will never forget what that felt like. We Love You Princess Always And Forever!!!!!
Posted by

Jenna and Lafe
at 1:49 PM
No comments:

Monday, July 21, 2008
1. WERE YOU NAMED AFTER ANYONE? My middle name is after my mom and my great great grandma Ann

2. WHEN WAS THE LAST TIME YOU CRIED? Last night watching tv....

3. DO YOU LIKE YOUR HANDWRITING? Are you kidding me all my sisters say it looks like a boy!

4. WHAT IS YOUR FAVORITE LUNCH MEAT? Pepper turky from the deli in the thick cut.

5. DO YOU HAVE KIDS? One beautiful baby girl! Her name is daynie and she turns 1 on friday
!
6. IF YOU WERE ANOTHER PERSON WOULD YOU BE FRIENDS WITH YOU? I hope so!

7. DO YOU USE SARCASM A LOT? Oh Ya!

8. DO YOU STILL HAVE YOUR TONSILS? Yup and no body's takin them from me.

9. WOULD YOU BUNGEE JUMP? I would have said yes until I had my baby but I dont think I could chance it now.

10. WHAT IS YOUR FAVORITE CEREAL? Tuff call.. Golden Grams

11. DO YOU UNTIE YOUR SHOES WHEN YOU TAKE THEM OFF? No.

12. DO YOU THINK YOU ARE STRONG? I would say yes i lift a lot at work!

13. WHAT IS YOUR FAVORITE ICE CREAM? Mint brownie and fudge from coldstone.

14. WHAT IS THE FIRST THING YOU NOTICE ABOUT PEOPLE? i am not sure but i think eyes..

15. RED OR PINK? Pink.

16. WHAT IS THE LEAST FAVORITE THING ABOUT YOURSELF? When i get upset i cannot control my self to calm down.

17. WHO DO YOU MISS THE MOST? In what way?.. When i go to work i cant wait to get back to my honey and my baby girl!

18. DO YOU WANT EVERYONE TO SEND THIS BACK TO YOU? Yes.

19. WHAT COLOR SHOES ARE YOU WEARING? Brown flip flops

20. WHAT WAS THE LAST THING YOU ATE? A slice of pizza and a side salad.

21. WHAT ARE YOU LISTENING TO RIGHT NOW? Nothing.

22. IF YOU WERE A CRAYON, WHAT COLOR WOULD YOU BE? Black i am so basic

23. FAVORITE SMELLS? Baby's, right after it rains and my parents house.

24. WHO WAS THE LAST PERSON YOU TALKED TO ON THE PHONE? My sister breeana.

25. DO YOU LIKE THE PERSON WHO SENT THIS TO YOU? You know it shes my sista!

26. FAVORITE SPORTS TO WATCH? Football.

27. Hair Color? brown.

28. EYE COLOR? Blue.

29. DO YOU WEAR CONTACTS? Nope.

30. FAVORITE FOOD? P.F. Changs oh so good!!

31. SCARY MOVIES OR HAPPY ENDINGS? Oo its a toss up i enjoy them both! But i watch scary ones with kara.

32. LAST MOVIE YOU WATCHED? National treasure 2.

33. WHAT COLOR SHIRT ARE YOU WEARING? Pink

34. SUMMER OR WINTER? Both, at the end of summer I'm ready for winter, at the end of winter I'm ready for summer. Sorry bear i copied u

35. HUGS OR KISSES? Both

36. FAVORITE DESSERT? Ice cream

37. MOST LIKELY TO RESPOND? I dont even know...

38. LEAST LIKELY TO RESPOND? I dont know again!

39. WHAT BOOK ARE YOU READING NOW? The book of mormon

40. WHAT IS ON YOUR MOUSE PAD? I dont have one

41. WHAT DID YOU WATCH ON TV LAST NIGHT? I actually didnt watch any.

42. FAVORITE SOUND? Flowing water, and my families voices

43. ROLLING STONES OR BEATLES? Niether.

44. WHAT IS THE FARTHEST YOU HAVE BEEN FROM HOME? France.

45. DO YOU HAVE A SPECIAL TALENT? I think I got skipped when heavenly father was passing them out.

46. WHERE WERE YOU BORN? Provo, Utah

47. IF YOU COULD GO ANYWHERE WHERE WOULD IT BE? Philipiens, italy, switzerland I could keep going
Posted by

Jenna and Lafe
at 12:15 PM
6 comments:

Monday, June 23, 2008
You Are Pocahantas!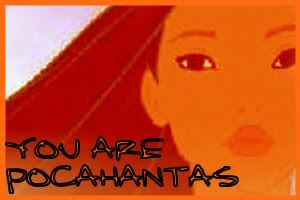 Free-spirited and wise. You have a strong passionate spirit that touches and changes all who know you. The wisdom and common sense that you have is really what guides you through life. Even so, you also have a very playful side that loves adventure and excitement.
Which Disney Princess Are You?
Posted by

Jenna and Lafe
at 10:39 AM
3 comments:

Friday, June 6, 2008
I just thought everyone would like to see how big the princess is getting. She loves the bath and showers so much she will try and climb in if we go in the bathroom. needless to say we have to keep that door shut!
Posted by

Jenna and Lafe
at 9:36 AM
6 comments:

I cant believe that Daynie is now 10 months old! She is really enjoying feeding herself unfortunately she gets it everywhere! But its ok she still looks cute doing it.
Posted by

Jenna and Lafe
at 9:30 AM
2 comments:

Wednesday, May 21, 2008
What's his name? Lafe
How long did you date? 9 Months
How long have you been married? 2 Years 2 months.
Who is taller? Lafe, But niether of us are towers...
Who eats more? Unfortunatly I think I could out eat him, But I chose not to.
Who is a better singer? I think we are the same.
Who does the laundry? I do
Who pays the bills? Me, That way I can keep some things on the sly (just kidding babe)
Who sleeps on the right side of the bed? I do
Who mows the lawn? Lafe does
Who cooks dinner? I do unless we would like Quesadilla's
Who drives? Lafe
Who is more stubborn? Well everyone who knows me knows that i am pretty stubborn but lets just say he can hold his ground too!
Who kissed who first? He kissed me, in the crestwood appartments parking lot after going to the Manti pagent.
Who asked who out? We really just started by hanging out with a bunch of friends and then he was the first to ask me out to a rodeo i couldn't go cause it was josephs b-day but I made it clean to please ask again.. I am so glad he did!!
Who proposed? He did, And i was oh so clueless i knew he was going to ask i just didnt know it was then.
Who is more sensitive? Its a toss up we both are babies!
Who has more siblings? Me, I have 6 he has 5
Who wears the pants? It depends on what is being decided on sometimes lafe gets a little excited about say buying animals... And i have to pull in the reigns.. But him for the most part.
Posted by

Jenna and Lafe
at 2:59 PM
5 comments:

Well I thought I would put up some pictures of our trip! Lafe, Kara and I went on a cruise from L.A. to San Diago, to Catilina and then to Ensanada Mexico. We decided to leave Daynie behind with Lafes Older Brother and his family and she had a really good time with them! But it was hard when we came home Daynie had decided to be mad at her mommie so it took a little warming up on her part, and me giving her a little candy.... Hey what ever works!!! I hope you enjoy the pics we sure did have fun!
Posted by

Jenna and Lafe
at 1:31 PM
No comments:

Posted by

Jenna and Lafe
at 1:21 PM
2 comments: